Installation Services of San Diego – Responsive Design
This week I launched a new website for Installation Services of San Diego Inc. I setup this website with a responsive design template on WordPress Content Management System (CMS). It is a fully functional lead generating website, with room for growth. There is still some more content and information to add, as well as some functionality improvements I will make over the next month or so.
Responsive Design refers to a layout technique that adjusts to fit whatever browser size or mobile device you use to view it with. That means if you view this website on a tablet, or smart phone, the website will adjust to fit within that screen size. The image to the right is a demonstration of the responsive home page being viewed on a thin browser such as an android phone. Everything lines up vertically.
You can try it within your browser by going to the site: InstallationServicesOfSanDiego.com then re-size your browser to be smaller, and observe how the element shift places.
Installation Services of San Diego is a company that has a wide range of products they provide to their customers. The website needs to be flexible enough to portray this array of services, while also focusing on the services and products that sell the most. The site's primary purpose is for lead generation and consumer confidence. When a company has an easy to use and informative website, it reflects on how the company operates and sets up a good first impression.
PostScript August 23rd 2013:
Green and Gold Color Re-Design:
During the time I was launching the site, a lot fo graphic design and branding changes were going on. I was also designing flyers and business cards. It was decided to change the companies colors to green and yellow. So I updated the website with the new colors, and shifted the design to accommodate this change: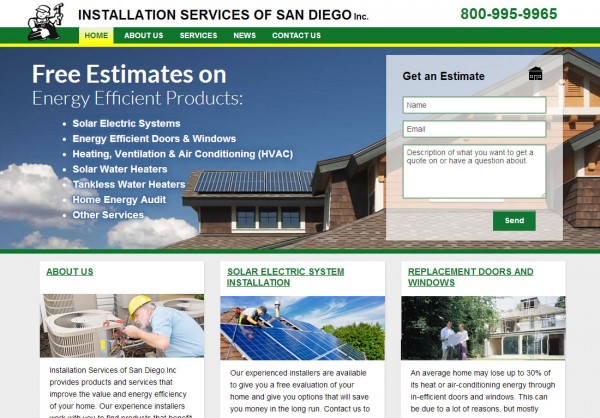 PostScript February 19th 2016:
Installation Services of San Diego has changed their name to Discount Installation Services. The website has also gone through a color change from Green and Gold to Orange and Blue. I have a backup copy of the site I setup in green and gold. You can browse that site here:
http://www.bulbmedia.com/oldsites/installationservicesofsandiego.com/
To view the Discount Installation Services with the new color scheme, visit:
http://www.installationservicesofsandiego.com/